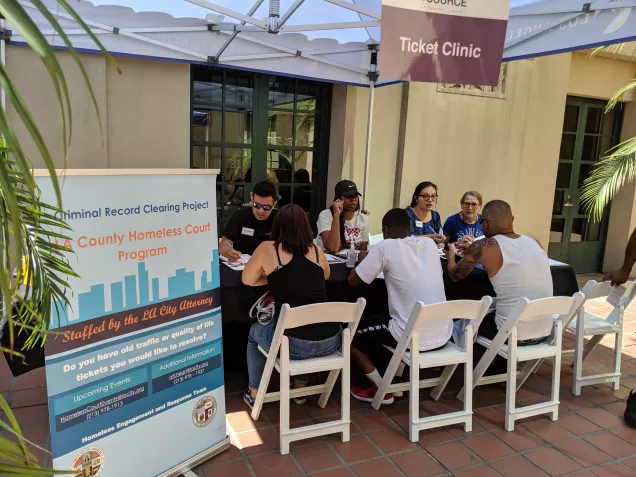 The Los Angeles City Attorney's Homeless Engagement and Response Team (H.E.A.R.T.) administers the LA County Homeless Court Program. The Homeless Court helps unhoused individuals or individuals at risk of experiencing homelessness clear traffic and pedestrian tickets by engaging in services instead of paying expensive fines and fees. These low-level criminal cases can have collateral consequences for employment and housing. H.E.A.R.T. frequently reviews cases that have amassed thousands of dollars in fines and fees, involving violations ranging from jaywalking to drinking in public to driving on a suspended license. H.E.A.R.T. works with approved social service providers to confirm that participants are engaging in services before coordinating with local prosecutors and the LA County Superior Court to dismiss citations and/or suspend outstanding fines and fees.
Participants can connect with H.E.A.R.T. by:
Attending a homeless connect day and completing an intake with a H.E.A.R.T. member; or
Having an approved service provider submit a direct referral to H.E.A.R.T.
H.E.A.R.T. partners with the Los Angeles County Public Defender to connect unhoused individuals and individuals at risk of experiencing homelessness with social services and criminal record clearing assistance through the County's Homeless Initiative.